Cowboy Dreams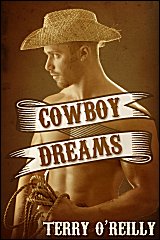 GENRE
Gay • Historical • Erotic Romance • Western
ISBN
9781611527841
PUBLISHER
JMS Books LLC
BUY A COPY TODAY:
JMS Books LLC
|
Amazon Kindle Unlimited
BLURB
Store clerk Chadwick Algood dreams of leaving his small New England town and becoming Chad Armstrong, a cowboy living a life of adventure in the Wild West. However, Chad is the sole support of his widowed mother and younger sister, so knows his cowboy dreams may never be realized.
Chad's life is turned upside down when Buffalo Bill's Wild West show comes to town and Chad meets Bo Miller, a roustabout with hopes and dreams of his own. A relationship quickly develops which deepens the young store clerk's longing for his dream for a new life.
Eventually, news from England sends Chad's mother and sister across the Atlantic. Chad decides to stay in the US. Traveling from town to town in search of Bo and the Wild West show, Chad meets ranch owner Leon Scruggs in a bathhouse and feels an instant connection with the hot cowboy.
Which cowboy dream will Chad choose? Or will fate choose for him?
EXCERPT
Chad arrived at a large field on the edge of town where the Wild West show was to be performed. Several tents were being erected. In another area a large outdoor amphitheater was being set up. The would-be cowboy hardly knew where to look first. Horses pulled on thick ropes which raised the heavy poles and canvases. Men swung sledge hammers, pounding the stakes that would hold the tents fast. Since the weather was warm, many of the men were stripped to the waist.

As he stood watching, a voice came from behind him.

"Howdy!"

Chad turned to see the young man who'd smiled at him during the parade. He was smiling again now as he stood shirtless in the late afternoon sun. Sweat was running over his muscular torso, matting down the light covering of hair on his chest. The man took off his cowboy hat and wiped his brow with a handkerchief. He then ran a hand over the rippled muscles of his stomach with its trail of dark hair running from his naval and disappearing into his jeans.

"Oh ... hello," Chad stammered.

"I'm Bo Miller," the man said. He reached out a hand, but instead of offering a handshake he laid it on Chad's shoulder.

Chad looked at the man's hand in surprise, then returned his gaze to the man's smiling face. "Uh." Chad swallowed. "Um. I'm, I'm Chadwi ... uh ... Chad Armstrong."

Bo Chuckled. "Pleased to meet you, Chadwi -- uh -- Chad Armstrong." Bo said with a wink.

Chad felt himself blush. "It's just Chad," he said feeling a bit foolish.

"Are you enjoying yourself, Chad?" Bo asked, raising one eyebrow. There seemed to be more implied in Bo's question than just a query about Chad's taking pleasure in the process of setting up tents as Bo was still running his hand over his abdomen and had given Chad's shoulder a squeeze.

"Yes, yes I am," Chad replied, realizing he was appreciating the warmth of Bo's hand still resting on his shoulder.

"Good. Why don't you stay for a while and we can get to know each other better?"

"I'd like that," Chad heard himself say.

"That's great! I have to get back to work, but meet me here when the big tent is up." Bo gave Chad's shoulder another squeeze. He turned and jogged back to where the men were working.

As Chad watched the cowboy go, an excitement stole over him. He knew it had something to do with Bo. He couldn't fathom what he was excited about but there was no denying it was there.

After watching the men work on the tents for a long while, Chad wandered around with the other folks from town who'd followed the parade to the show grounds. He walked among the pens containing cattle, horses, and bison. He looked at the covered wagons and stagecoach which he'd seen in the parade, before finally returning to watch the progress on the tents.

He watched as the horses pulled the canvas to the top of the main pole of the big tent where a US flag fluttered in the breeze. A cheer went up when the men on the ground secured it in place. As Chad watched, Bo emerged from the group and came toward him. The excitement Chad had felt earlier returned.