The Custodian and Mr. Chapel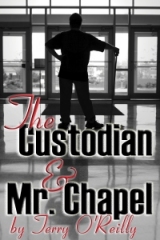 GENRE
Gay • Contemporary • Erotic Romance
ISBN
9781611520095
PUBLISHER
JMS Books LLC
BUY A COPY TODAY:
JMS Books LLC
|
Amazon Kindle Unlimited
BLURB
Patrick Chapel teaches high school science. Every night Ray, the custodian, cleans his room. Every night Mr. Chapel waits so he can admire the muscular young man as he does his job. And every night he goes home to fantasize about the amazing sex they'd have.
What Mr. Chapel doesn't know is that Ray has fantasies of his own. Each night the custodian hopes when he comes to clean one room in B Hall, he will find a certain teacher there working on grading papers. After his work is done and the school is empty, Ray goes back to Mr. Chapel's room and, sitting in the teacher's chair behind his desk, lets his mind play out a fantasy he hopes one day might come true.
But will it? Will the shy custodian ever feel the touch of the teacher he loves?
EXCERPT
Patrick Chapel sat behind his desk in his room in B Hall in the high school. He checked his watch. Right on schedule there was a knock on the door.

"Come on in."

The custodian stuck his head around the door. "Excuse me, Mr. Chapel, 'zit okay if I do your room now?"

"Sure come on in, Ray, just finishing up a few papers that need grading."

The young Black man came in and began the task of cleaning Mr. Chapel's classroom. Patrick Chapel never took his eyes off him. He watched the man move around with athletic grace: his well formed muscles rippling under his tight tee shirt. Every now and then Patrick tried to engage him in casual conversation. The young man usually just answered in monosyllables apparently too shy to say more.

Patrick admired the firm, round full butt as Ray walked up and down the rows between the desks. He felt himself responding to the sight and tried to pry his eyes away. This had been going on for months now: Ray coming in to do Mr. Chapel's room, Patrick covertly watching his every move.

"That about does it, Mr. Chapel. Good night now."

"Thanks, Ray. I'm gonna leave now myself. I'll walk with you."

They walked down the hall side by side. Mr. Chapel carrying his briefcase, Ray pushing the cleaning cart.

They parted company at the end of the hall.

"Night, Ray."

"Yes, sir."

As Ray walked away, Patrick stole one more look at the ass that made his blood boil. He let out a hiss between his teeth.