Tune Up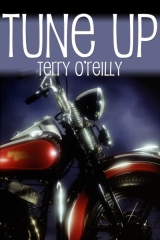 GENRE
Gay • Contemporary • Erotica
ISBN
9781611520408
PUBLISHER
JMS Books LLC
BUY A COPY TODAY:
JMS Books LLC
|
Amazon Kindle Unlimited
BLURB
Kenny left the small, hick hometown where he grew up and went to trade school in the city, where a vibrant gay community allowed him to live life outside the closet. But when his father passes away, he comes home to care for his mother. When she, too, is gone, Kenny finds it difficult to move on.
He has a steady job as an auto mechanic but longs to get back to the city. More than anything, he misses the sex. Here in BFE, he's the only gay man around, and he's getting tired of everyone telling him he needs to get married.
Kenny isn't a big believer in love. All he wants is to get laid.
Then a handsome stranger rides in on his Harley, in need of a tune up. This just might be Kenny's lucky day.
EXCERPT
Kenny walked around the corner of the gas station and stood outside the men's bathroom door. He leaned against it and listened.

"Damn!" came a muffled voice from the inside.

Kenny rapped lightly on the door. "Uh ... everything okay?"

There was silence for a second, then the door opened.

"Geez man. This is embarrassing… I can't get my chaps zipped. You think you can help me out here?"

Kenny let out a whistling breath between his teeth. "Uh, yeah ... sure. Be happy to."

"Great," the biker said, taking hold of Kenny's hand and pulling him inside the small restroom. He shut and locked the door. Turning to Kenny, he said, "These tight custom chaps are mandatory for the image, but man ..." He looked down at the chaps and grabbed the fringe, pulling it out to the side. "They are a bitch to get on by yourself."

Kenny nodded dumbly and turned his gaze to the chaps. They were buckled around the biker's tight waist, but the legs were unzipped -- one was partially started, the other completely open.

"If you pull the two ends together, I'll zip," he said, gesturing, and Kenny got the idea.

Kenny sank to his knees. He grabbed the ends of the chaps and pulled. The biker man bent and tugged on the zipper. Kenny could feel the muscular thigh beneath his hands. The mechanic felt his cock hardening, his breath catching in his throat. He didn't care. It had been so long since he had touched any man except himself; he was gonna enjoy this little bit of man-to-man. With relative ease the zipper gave way, and the biker was able to zip it all the way to his ankle. That put his upside-down face within centimeters of Kenny's.

He spoke softly. "Since we're gettin' to know each other this intimately ..." he said, laughing.

Kenny's dick twitched within the confines of his briefs.

"I guess we ought to introduce ourselves. I'm Jonas ... Jonas Daniels."
Reviews
Eliza Rolle on her Live Journal said:
A nice and unexpectedly romantic short story, I mostly liked it since it presents ordinary characters and not "romance" heroes.

There is a very romantic, very movie style ending, that I'm sure the more romantic readers will love, and in the meantime, for who is searching a sexy break, Tune Up is that and more.