Western Pleasure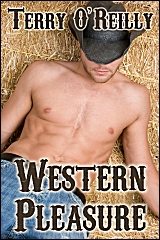 GENRE
Gay • Contemporary • Western • Erotic Romance
ISBN
9781611522556
PUBLISHER
JMS Books LLC
BUY A COPY TODAY:
JMS Books LLC
|
Amazon Kindle Unlimited
BLURB
Handsome Ty Steele, a professional horse trainer, is looking to add to his income by offering horseback riding lessons at his horse farm. Unfortunately, he accidentally places his ad in the personals section of the local newspaper.
Gordon Burkhart, recently transferred from New York to the Midwest, comes across the ad. His over-active libido causes him to misinterpret the ad as offering something far different than what Ty intended.
What happens when Gordon arrives at the farm for his 'lesson'?
EXCERPT
Gordon Burkhart sat in front of his computer. He was reading an email from his friend Tim in New York City.

Hey, man. How are things in Hicksville? he read.

Gordon had recently moved to the Midwest from Manhattan where he'd been an assistant claims manager in a large national insurance firm. The firm was cutting back on personnel and Gordon -- along with many others -- had been shuffled around the country to smaller offices. He was lucky his seniority had kept him from getting a pink slip.

Bet there isn't a lot of action. Your trusty right hand is going to get a lot of exercise.

Gordon finished reading the letter and responded:

It's not exactly Hicksville. The population is about 100K, but you're right, it isn't swinging either. No gay bars and after checking the net not a single ad for anyone looking to hook up within a hundred miles. Yep, the trusty old right hand is getting a workout all right.

After finishing the letter he sighed and clicked SEND.

Shutting down the computer for the night he flipped on the television. There was nothing there that held his attention either. The local cable company carried only the basic programming and he hadn't checked on satellite TV as yet.

Oh well. At least I have a job, he thought as he turned off the tube, went to the bathroom and got ready for bed.

He crawled beneath the sheets, his right hand made it's way down to his crotch for its nightly workout. Images of bodybuilders, construction workers, and military men rolled on the screen of his mind. A picture of a tall, muscular cowboy in tight Wrangler jeans and plaid shirt open to the waist with sleeves rolled up exposing massive biceps appeared.

Gotta be some way to find someone like this to ... Gordon groaned and let the thought go as his dick erupted.

* * * *

The next morning Gordon picked up a local newspaper along with his coffee on his way to work. He went into his office and shut the door. After a review of the messages his secretary had left on his desk he opened the paper and browsed through the news as he sipped his coffee. Working for a company that insured many of the folks here about, keeping up with the goings on of the town was important.

After reading an article about the fortunes of the local high school football team he was about to put the paper aside when a thought struck him. Check the personals. Yeah, why not? Could be the guys here still put themselves out in the old fashioned way. Flipping to the back of the paper, he found the classifieds. Let's see, personals, personals. Ah, yeah, here we go.

The first two ads were men looking for wives. One wanted a woman who could cook. The other didn't care if she could cook as long as she was a stunning beauty. Oh my God! Gordon thought. The third was a woman looking for a golden retriever to breed her poodle, Sally, in hopes of producing golden doodles -- profits to be shared.

Ah, maybe Tim was right, Hicksville.

Hmmm, what's this? The next ad caught his eye.

Interested in riding lessons? Beginner to advanced. Experienced trainer/instructor. Available any time of day. Happy to give you the ride of your life.

The telephone number followed.

Now this has possibilities, Gordon thought. He wrote the number on a piece of paper and put it in his pocket. His first appointment was due in a few minutes. He'd call the number later.

* * * *

The first chance Gordon had to call was at lunchtime. He got the paper with the number out of his pocket and punched it into his cell phone, leaned back in his desk chair and hummed as he counted the rings. After four he thought maybe the ad was just a crank posting, but then a deep, sexy voice said, "Hello?"

Wow, now this does have possibilities, Gordon thought as he felt a tingle in his groin. "Hi. I'm calling about your ad in the paper for…uh," Gordon smiled, "riding lessons."